A group of my fellow Etsy artists & crafters have teamed up to do a big sale and a giveaway this week. From a free print of your choice (from me!) to handmade earrings, pendants, cards…there's a TON of cool stuff to be won. We're going to be dividing up all the goodies for 5 lucky winners & you've got until May 24th to enter. So get clicking!
acageybee.etsy.com
barefoottams.etsy.com
beadcrazed.etsy.com
bedtimebeads.etsy.com
brynnalex.etsy.com
bylynnkrestel.etsy.com
carolforsyth.etsy.com
cocosjewelry.etsy.com
deandymentstudios.etsy.com
debrasdesigns.etsy.com
elseetee.etsy.com
ficklefaerie.etsy.com
gillianbeads.etsy.com
groovyglassgirl.etsy.com
jansonpottery.etsy.com
luckytroll.etsy.com
luludesign.etsy.com
owlandpussycat.etsy.com
prettybetty.etsy.com
radclothing.etsy.com
sleepymoondesign.etsy.com
squareware.etsy.com
whiterabbit21.etsy.com
How To Enter The Giveaway:
1. You can enter once without a purchase by leaving a comment on this blog post.
2. You will get an extra entry with each purchase (ie. 5 items equals 5 entries)
3. If you blog about our sale and leave a valid link you will get another entry.
4. You can visit each shop involved in the sale, pick a favourite listing from that shop, and then post the link in the comments section on this blog post. This means you can leave 25 links from 25 different shops in the sale and you will get 25 entries into the draw.
Check out the official Etsy Canada Giveaway blog here:  http://etsycanada.blogspot.com
A few of my favorite items:
Teeny Hammered Ring Earrings from Bedtime Beads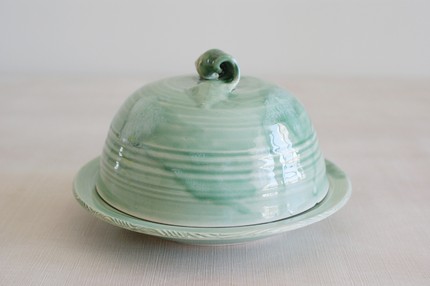 Handmade Porcelain Butter Dish from Janson Pottery
Silver Robot Print on Wood by elseetee
Happy weekend shopping! And don't forget to mention the "Etsy Canada Sale". 🙂