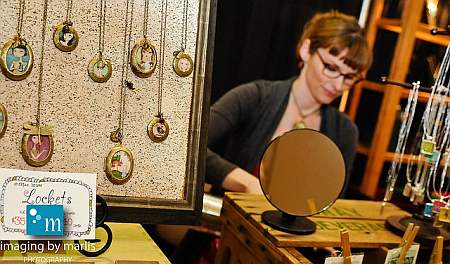 If you're in the Vancouver area, you can often find me around town at local craft fairs and art markets. Come see my work in person!
After the pandemic shut down all of our events, we are thrilled to be back at markets! Starting in May 2022 we have returned to Granville Island with some dates booked throughout the summer, plus waitlisted for more days. So happy to see you all again!
2022
***************************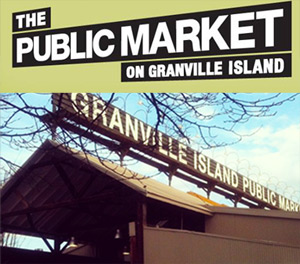 For most of the year you can find me at Granville Island in the public market. The tables are moved every Monday, so I can't tell you exactly where I'll be set up, but ask any of the other artists & you'll be pointed in the right direction.
June 13th to 19th ~ June 27th to 30th
July 12th to 16th 
August 8th to 14th 
Granville Island Public Market
10am – 6pm
*
Ladner Farmer's Market
June 26th 
July 24th
August 28th
Ladner Village Market
10am – 4pm
*
Khatsalano Festival
July 9th 
Khatsalano.ca
11am – 9pm
2019
***************************

November 7th to 11th
Circle Craft Winter Market
Thurs to Sat 10am-9pm, Sunday 10-7pm, Mon 10-5pm
Evenings after 5pm are 50% OFF admission!
*
December 7th & 8th
Got Craft?
Croatian Cultural Centre, 3250 Commercial Drive (Vancouver, BC)
10am to 5pm
*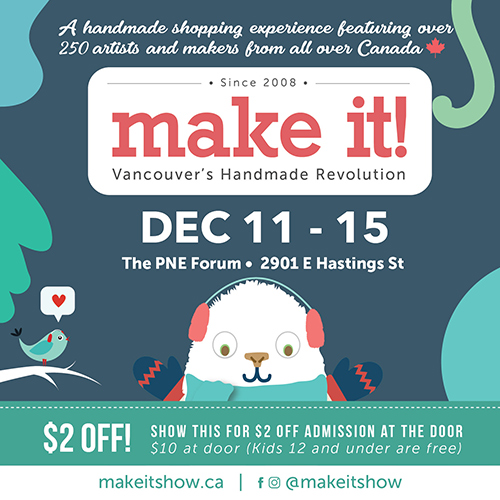 December 11th to 15th
Make It Vancouver
PNE Forum
Wednesday 5pm-9pm
Special Wed night kick off party with a venue wide liquor licence!
Thurs & Fri 11am-9pm, Sat 10am-6pm, Sun 11am-5pm
*
That's a wrap for 2019! See you next year!
Past Shows:
2013, 2014, 2015, 2016, 2017, 2018, 2019
Circle Craft
Vancouver Convention Centre
February 18th, 2012
The Fall Gallery ~ 644 Seymour Street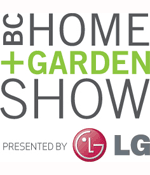 February 22, 23, 24, 25 & 26th, 2012
BC Home + Garden Show
BC Place Stadium
777 Pacific Blvd
Wed 4-9pm, Thurs & Fri 12-9, Sat 10-9, Sun 10-6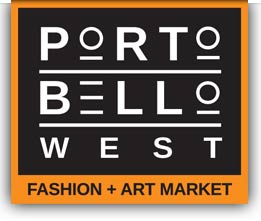 March 24 & 25th, 2012
Portobello West
Creekside Community Centre
1 Athlete's Way
Sat 11-5, Sun 11-5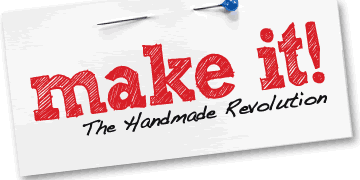 April 20th, 21st and 22nd, 2012
Make It Vancouver
Croatian Cultural Centre
3250 Commercial Drive
Fri 4-9pm, Sat 11-6, Sun 11-5
August 2012
Harmony Arts Festival
West Vancouver waterfront ~ between 14th & 16th Street
Friday 2-9pm, Sat & Sun 11 – 9pm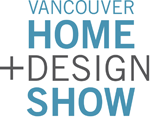 October 11th, 12th, 13th and 14th
Vancouver Home + Design Show
BC Place
Thursday 4-9pm, Friday 12-9pm, Sat 10-9pm, Sunday 10-6pm
November 16th, 17th & 18th, 2012
Eastside Culture Crawl
1000 Parker Street, studio #204
Fri 5-10pm, Sat 11-6pm, Sun 11-6pm

December 8th, 9th, 10th & 11th, 2011
One of a Kind
Vancouver Convention Centre
1055 Canada Place
Vancouver, BC
10 – 9pm Thurs, Fri & Sat, 10-5pm Sunday
***************************
Sept 5 – 18, 2010
The Pocket Show
156 W Hastings – Vancouver
April 9th – June 30th, 2010
Through the Looking Glass and Back Again
solo art exhibition featuring new work inspired by classic children's stories to my own character creations
Massey Theatre (Plaskett Gallery)
show runs through end of June 2010
735 Eighth Avenue
New Westminster, BC
June 12th, 2010
Beyond Wonderland
Box Studios  ~ 1622 Franklin Street
Vancouver, BC
One night only art show featuring Alice in Wonderland-inspired art by 35 talented artists. Music, drinks & performances too!
February 6th, 2010
The Heart On
Box Studios  ~ 1622 Franklin Street
Vancouver, BC
February 6th, 2010
Hot One Inch Action
W2 Gallery
Vancouver, BC
December 5th, 2010

Got Craft?
Royal Canadian Legion
2205 Commercial Drive (@ E 6th Ave)
December 9th, 10th, 11th & 12th, 2010

One of a Kind
new Vancouver Convention Centre
1055 Canada Place
***********************
November 27th – December 31st
Naughty, Not Nice 5
Jem Gallery ~ #109 – 22 East Cordova Street
Vancouver, BC
December 2nd, 2009
Please Mum at Ayden Gallery
Ayden Gallery – Vancouver, BC
A fundraiser show for the organization Please Mum featuring artwork inspired by children's books.
November 14th, 2009
ART SEA
Vancouver Aquarium – Vancouver, BC
A group show and fundraiser for Arts Umbrella with the Vancouver Aquarium as the fabulous backdrop.
October 2009
Day of the Dead group show
Jem Gallery – Vancouver, BC
A group show hung salon style featuring artwork inspired by the Dia de los Muertos tradition.
October 1st to 15th, 2009
The Drift
Vancouver, BC
My work will be hung at the Beehive Hair Lounge at 4385 Main St (@ 28th). The big art walk days are October 3rd & 4th, but my work will be up for a couple of weeks. So many wonderful artists to see & cool venues to check out. I'm really looking forward to being part of the Drift this year.
July 31 to September 4th, 2009
Canvas Project
Atlanta Airport Atrium Gallery, GA
Closing exhibition hosted at the Art House Gallery on September 25th
If you're traveling through Atlanta this August, be sure to swing by the Atrium Gallery & try to spot my work. This should be a really great show curated by the Art House Co-op based in Atlanta. I have 5 tiny paintings in the show, all 3″ x 3″. Read my blog post on the event for more details.
August 15 to Sept 6th, 2009
Square Foot Show
AWOL Gallery – Toronto, Ontario
Yes, it's another show proving the point that size does matter. I have 3 paintings shipped off to Toronto all measuring exactly 12″ x 12″. I love the idea of seeing a variety of artists from all different backgrounds painting on the exact same size canvas. Also? All work is priced at only $200, so it's a bargain too!
August 16th, 2009
Britannia Artful Sundays
Vancouver, BC
This is a new show for me & one I'm really looking forward to. The Britannia Community Centre on Commercial Drive is such a great asset to the community & I'm thrilled to take part, especially since I'm moving to the east side this month. I'm consistently impressed by the number & breadth of programs they offer & the amount of support they provide for local artists. These are my people!
August 15th, 2009
The Wee Show
Vancouver, BC
50 artists + art sized smaller than 8″ x 8″ should be massive fun! The event is one night only, but please do stop by to have a drink with me.