I hung my paintings at the Beehive Hair Lounge this morning and have to admit I was tickled to see so many of them hung together. Well, not together exactly…more scattered around the salon, but up! On the walls! Yay!
I'm participating in The Drift this weekend, which means that artists & businesses are teaming up all along Main Street in Vancouver to display some rad local art. The official kick off happens October 2nd & 3rd, with artist talks & open studios & all sorts of good stuff, but if you're busy this weekend, don't fret – my paintings will be on display until October 15th. If you're a local, please do pop by & take a peek. You'll find the Beehive at 4385 Main St (@ 28th). Also on the same block? My favorite indie music shop.
With all the prepping for markets this month, I didn't have as much time as I would've liked to paint new work, but I did create something special just for my particular temporary gallery space. Here's a snapshot of me finishing it up (& my messy studio space):
I usually sketch ideas loosely before I start a painting & I always find it interesting to see how the final painting turns out. Sometimes it's very similar, sometimes it takes on a complete life of its own (or her own, in this case):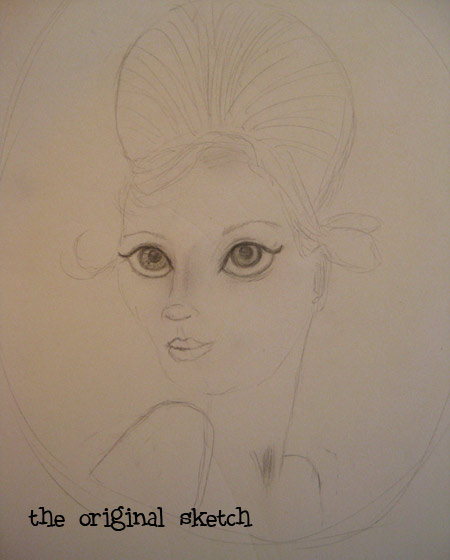 One of the nicest things about today was the little helper I had as I was hanging my work. The salon owner's little boy, Eli, very very carefully helped me hammer nails into the walls & pick out spots to hang each one. He's only 4, but he's already an art critic. When I showed him this little pig painting he said, "I don't like the pig. It's stupid."
After I'd stopped laughing (seriously – how could you not crack up??) I explained that while art is totally subjective & he was certainly entitled to his opinion, he may want to consider holding off until the artist is out of earshot.
Wouldn't it be funny if he grows up to be an art critic or curator? Ah, I knew him when. *grin*