Happy anniversary…to me!! I opened my Etsy shop 1 year ago & though I'm usually terrible with birthdays & anniversaries, this is one that's so special to me that I definitely want to celebrate. Hurrah!
It's funny…though it's only been a year, I've been so happy with becoming part of Etsy & selling my artwork in general that it feels like I've been doing it forever. OK, technically I signed up for Etsy in July of 2008, but I didn't actually list my first painting until the fall so this is the anniversary date I'm going to stick with. Where's that horn again so I can toot it? 🙂
It's easy to get caught up with the day to day craziness that goes along with running an online business & forget to take a moment to celebrate our little milestones. Being self-employed it's often easy to let those things slide; we don't get performance reviews or raises. There are so many little milestones that I want to record & celebrate – selling my first painting, my first craft market, my first gallery show. Sure, there are still a ton of things I want to add or fix or spruce up in my shop (I'm talking to you, badly-lit photos!), but I couldn't be happier with how my artwork has been received in general & all of the truly kind people I've met since I dared to dip my toe in the waters of the art world. So it's time to throw my own anniversary party! Care to join me? There are goodies!
First of all, for the entire month of October all orders in my Etsy shop will get a free magnet tucked into their package. I'll be making a bunch more for the holiday markets this year, so if you have a particular favorite, feel free to specify otherwise I'll surprise you. 🙂
And secondly, a giveaway! Just leave a comment on this post to enter & next week I'll randomly pick a lucky commenter to receive a package of 4 of my blank postcards. Your postcard pack will arrive with 4 notecards (sized 4″ X 6″) plus 4 brown bag envelopes made of 100% recycled material that are lovely to the touch, all sealed up in a rainproof cello sleeve. I use them all the time for little notes & thank yous.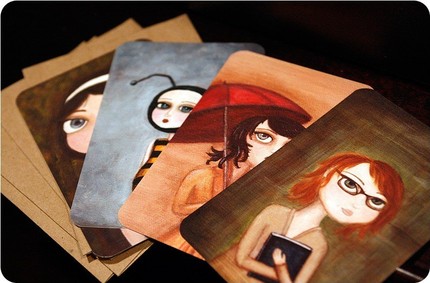 While I'll certainly count your entry with any old comment, I would love if you could tell me something that *you* love. A great new book you've read, a movie recommendation, another artist you think I'd like – anything that spreads the anniversary love.
Thank you all for a very good year and, of course, good luck!