The Etsy Twitter Team is having a Sidewalk Sale! One of the things I love about selling my work on Etsy is the amazing community of artists and crafters who truly want to help each other succeed.  I joined a street team of fellow Etsy sellers from all mediums (jewelery to knitting to photography) who also use Twitter and have been having a great time collaborating with the group. And this week is our first big sale!
From May 17th to May 23rd there's a big list of shops that offer great discounts from 20% off to free shipping as long as you enter in a special sidewalk sale code when you check-out.
Click here to see the full list of all shops participating and their sales!
In the Cagey Bee shop…every order will get a free sampler pack of 4 postcards included in their shipment! Just enter the words "Sidewalk Sale" when you complete your purchase. Yay!
Here are a few of my fave items from other sellers participating in the Sidewalk Sale: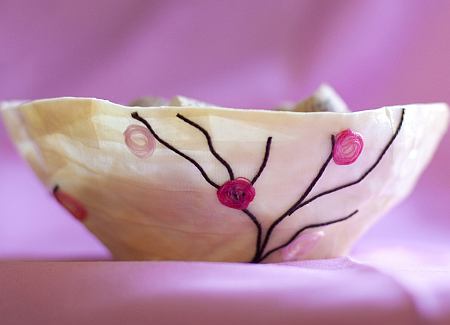 Cherry Blossom Fabric Bowl from a Curious Mess
free shipping worldwide
Circuit Pendant from Beadwork by Amanda
20% off her entire shop
Thai Coconut Lemongrass Soap from Soap Rehab
free shipping
Plus heaps more! Click here to see the other shops participating in the sidewalk sale. Happy shopping!