After a few days of catching up with my pug snuggling, I've perused my L.A. vacation pics & determined two things:
1) I really shouldn't be posting dorky holiday photos on my professional (*snort*) blog.
2) I am not photogenic. As soon as a camera appears, I make the dorkiest faces!
So. With those 2 points in mind, here are a few photos to document my adventures in the City of Angels: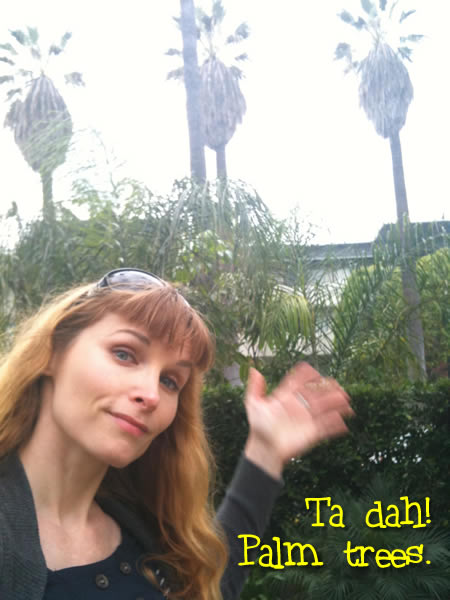 Since this wasn't my first trip to L.A., it felt sort of odd to do all the quintessential touristy things. I'd been to the Hollywood Walk of Fame before, put my hands in the cement hand prints of Marilyn Monroe & other celebs. I can't imagine anyone who lives in L.A. ever goes down there unless they're playing tour guide to an out of town guest. Aside from having that moment of recognition ("Oh hey! This is that place you always see in the movies!") , a lot of the common L.A. tourist attractions aren't all that interesting.
Things I love about L.A.? Super rad art galleries with the kind of low brow art that I love. That, however, deserves its own post. Beautiful weather. Interesting flora & fauna that varies dramatically from the rainforest in which I live. Birds of Paradise just growing along the sidewalk? Awesome.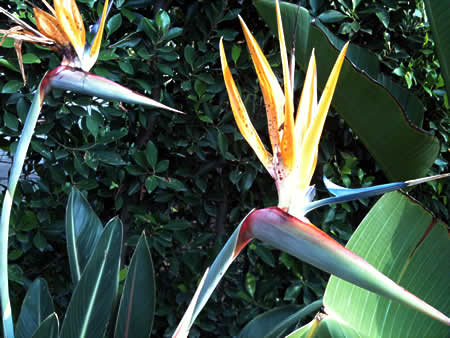 My girlfriend's apartment complex has a lemon tree growing just a few feet from her doorstep. Lemons! And another self-portrait.
My favorite fruit, however, came courtesy of the fabulous mixologists tending bar at Tiki Ti, one of L.A.'s oldest tiki bars. Started in 1961 by Ray Buhen, the tradition has been continued by his son & now grandsons!
The drinks were delicious, the staff & other patrons were friendly & I would definitely be a regular if I lived within stumbling distance. Public safety warning: those yummy drinks are also strong!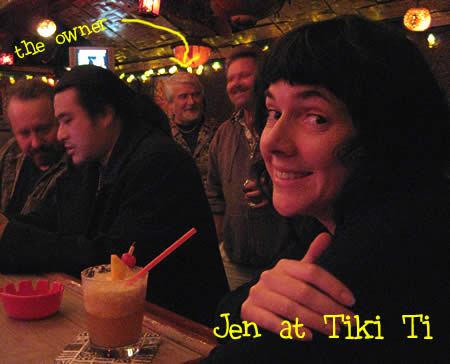 Another highlight of the trip was seeing a stand-up show at The Comedy Store. For $20 (plus 2 drinks) we saw a dozen comedy acts including a surprise appearance by Carlos Mencia. Admittedly, I'm not usually a fan of comedians like Carlos Mencia, but he was a pro & had the room howling. I was sold as soon as I saw Whitney Cummings in the line-up. She's a regular on Chelsea Lately & did not disappoint. It's so great to see people you love doing their thing live & in person.
I could do a whole 'nother blog post just on the shopping in L.A. The vintage & used shops were such a score for me that I actually had to buy another suitcase to haul my new threads home, and that doesn't even mention the taxidermy shop that had a human skeleton for sale! Since this post is getting rather photo-laden as it is, I think I'll wrap it up here. Not to worry though! I'm sure I'll take lots more photos of me wearing my new Mad Men-esque shirt-dress with a graphic print design made of cat silhouettes. Yes, it IS awesome, thankyouverymuch. One of the comedians may have even called it my "naughty librarian" look. Haha!
All in all, the trip was great fun & I can't wait to go back for another visit. On my list for next time – the Broad Collection of contemporary art at LACMA. And Disneyland. 🙂