One of my favorite parts of visiting L.A. was getting to tour the fab art galleries I regularly drool over in the pages of Juxtapoz and High Fructose magazines. La Luz de Jesus gallery was in walking distance from my girlfriend's apartment & the featured exhibition is definitely worth a visit if you're in the L.A. area. Here's a preview:
Cover to "The Pusher" ~ Charles Binger
When I first saw the paintings, I immediately smiled. They so clearly play homage to the pulp novel style of the 1950s  & would look smashing in a hipster hideaway furnished with mid-century modern flair. When I stepped closer & started really looking at each work & reading the title card, I began to think, "Wait…so these are reproductions of actual book covers? Hm. That must have been a copyright nightmare."
Cover to "Blue Camellia" ~ Charles Binger
There was a display in the middle with a few of the old books that inspired each painting & that's when I realized I really should have started there. These paintings aren't an homage to pulp – these are the real deal!
The artist, Charles Binger, was a successful commercial artist who specialized in creating work for film posters, novels and painting celebrity portraits. This is the first exhibit of his work in 45 years and the very first time the paintings have ever been offered for sale.
I love the muted colors & palette that is undeniably kitsch. Binger has a soft, painterly style & I particularly like some of the studies, like Sophia Loren above, that appear unfinished. I think it's perfect exactly as it is. Oh how I wish I had more money to spend on art!
You can see the rest of the paintings on the gallery website.
Also worth checking out, especially if you have a good sense of humor – "Is This Thing On?", the group show currently rocking Gallery 1988 on Melrose. Over 100 artists took part in the show (on until January 29th, 2011) taking aim at funny people. A few of my favorites:
"Wisdom of the Lama" ~ NC Winters
You can't tell from this image, but the painting was completely covered with a thick glossy coating of resin, just my wood block panels & the tacky wood slice clocks of yore. Awesomeness.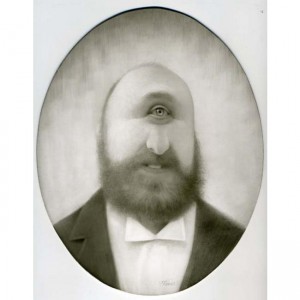 "Posehn" ~ Travis Louie
My imaginary boyfriend/monster portrait artist extraordinaire, Travis Louie, created one of his fantastic daguerreotype paintings honoring (monsterizing?) Brian Posehn, hilarious comedian & co-star of The Sarah Silverman Program. I am so smitten by Travis Louie's work & have had one of his old timey monster portraits on my "Art I Will Buy When I'm Rich" wishlist for years. Love.
While I'm waiting for my bank account to grow, I am, however, enjoying poring over the pages of his book, Curiousities.
Also awesome & at the show: plush versions of Jemaine & Bret from Flight of the Conchords (as robots, of course), an amazing oil painting of Norm MacDonald on SNL playing Burt Reynolds on Jeopardy (confused yet?), and a storybook version of one of my comedy heroes, Larry David. I bought one of Josh Cooley's limited edition prints, but it is being mailed out & unfortunately hasn't arrived yet. Hopefully soon!
The big standout at the show had to be PeeWee, a soulful portrait in traditional oils & framed in the most flamboyant sparkly red vinyl fit for the Playhouse: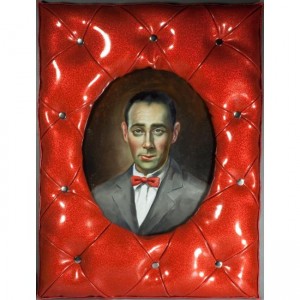 "Mr. Paul Reubens, A Loner and a Rebel" ~ Allison Reimold
Again, the photo really doesn't do the work justice, so if you can get down to see it in person, you really should. I can't help wondering who bought this one. I wish art collectors would send in photos of where the work ends up. I really hope there's lots of white shag involved. 🙂