I've been working on 5 little paintings all week and am finally done. Yay! I signed up to do The Canvas Project 2 weeks ago and have been struggling with what exactly to paint. This is how it works:
artists sign up with the lovely folks at Atlanta's Art House Co-op
they send you 5 random words that have been submitted by users plus 5 tiny canvases (3″ x 3″)
you paint your interpretation of the word & then mail the canvases back to be displayed in a big group show
It sounded like fun, plus a great challenge. That was, of course, before I got my words in the mail. Um…bioengineering? Viaduct??? Are you freaking kidding me?!
I knew I could've just painted each actual object in a very literal way, maybe played with an abstract style, but then…what's the point? If anyone does look me up after having seen my work, they'll see my girls and critters and art that looks nothing like what I'd submitted. No good. But how exactly does one integrate the cute with the word "cannonball"? Well, take a look!
bioengineering
slander
Viaduct
country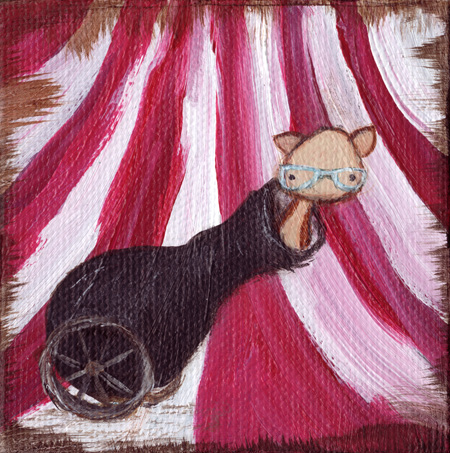 cannonball
OK, so I caved on the viaduct one and went for a literal painting of a viaduct, but I'm really happy with the rest of them. A squirrel cannonball? Love!
If you feel like getting your own creative juices flowing, Art House Co-op has lots of other projects coming up. And if you do sign up, don't forget to add me as a friend! You can find my Cagey Bee page here.