Have I mentioned how much fun I've been having making new fancy schmancy jewelry? I've been doing the Scrabble tile pendants for a little over a year now, and while they'll always have a place in my heart (so light & cute & fun), I'm smitten with my newest creations.
Making jewelry is such a different skill set than painting, so it's been fun to learn something new and experiment with being creative in a totally different way – which beads to use, which charms, antiquing & getting different patina effects…lots to play with!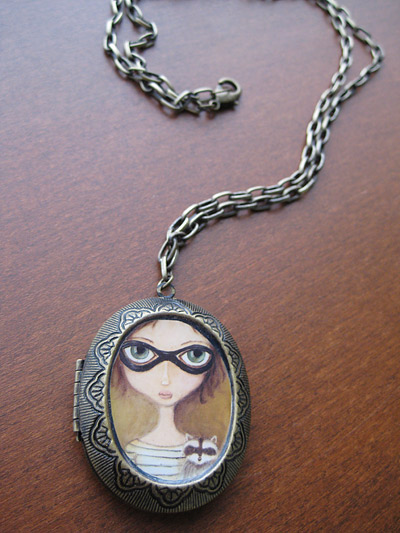 The new pendants have been popular at my local craft shows, so I'm having trouble staying on top of what inventory I have and getting it photographed and up in my Etsy shop. Since I personally antique the brass setting and add different beads and charms, each one really is unique and needs its own listing. They've been selling too quickly, which is, of course, a wonderful thing! 🙂
I have 2 more days at Simon Fraser University this week, then Got Craft on the weekend and THEN I can get back to focusing on my Etsy shop – which is just about too late for Christmas shopping! The last few weeks have flown by. I'm looking forward to the craft show madness to slow down so I can turn my attention to getting my own house gussied up for the holidays. The mister's parents are coming out to visit, so there's a little extra pressure this year. I'm kind of looking forward to curling up with the December issues of Real Simple and Martha Stewart, plus my stand-by cookbooks to plan something special. Yes, I am a dork like that.
What's your favorite holiday recipe?