Phew! After doing a week long show at SFU, then the madhouse that was Got Craft on Sunday, I'm ready for a good long nap. I let myself sleep in this morning (well, only until 9 a.m., but still a welcome change!) and then took my boys to see a movie. And now? Back to crafting up a storm in preparation for the final Portobello West of the year on December 12th and 13th. It should be a busy one, but probably nowhere near like this: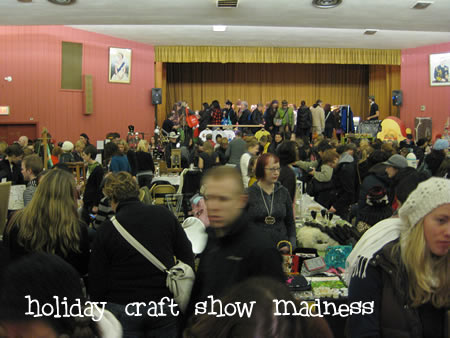 The first 30 people through the door at Got Craft get swag bags, so folks started lining up at 7 a.m. For a show that didn't open its doors until 11 a.m. Craziness!
Everyone seemed in good spirits, but being elbow to elbow with that many people really stresses me out. I was happy to be able to hide behind my table, not unlike this: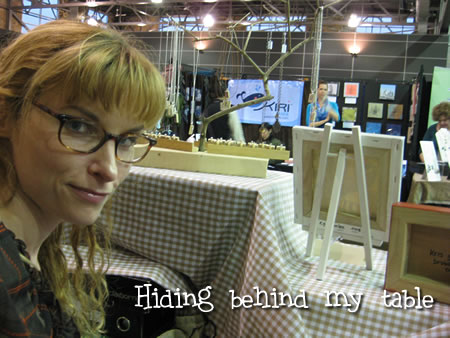 The SFU show (Simon Fraser University) was a totally different beast. People were there to go to school, not shop (necessarily). It would get busy in between classes and at lunch time, but mostly there were long lulls in between so I got lots of busy work done – making magnets, assembling necklaces for my new lockets & so on. I even had a wee bit of time to shop. One of my favorite vendors was a knitter who was actually spinning her own yarn from fresh bags of wool right there. So cool!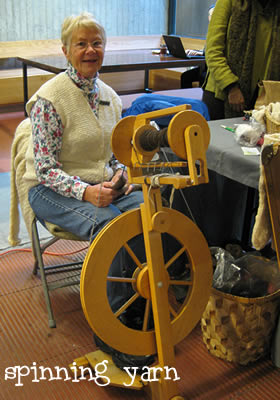 I ended up buying some wooly fingerless mittens, perfect for walking the dogs when I need my fingers free to fidget with their leashes. And the poop bags.
But my favorite thing I've bought at Vancouver craft shows this year? Also absolutey the silliest. Allow me to introduce my new pet weasel, Stan:
Do you remember these things? They're just a strip of fun fur with googly eyes, but when you stroke the fur, the static electricity makes it curl up & move as if it's alive. The (lovely) girl selling jewelry beside me (whose name I've forgotten) bought a couple, then my friend Jen bought one & then I finally caved & bought two – one for me & one for the boy's xmas stocking. I can't wait to see how the pug reacts to Stan. hehe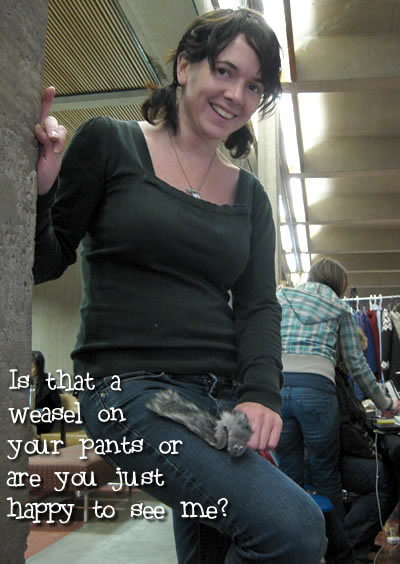 Of course there are also plenty of elegant & funky & hip handmade goodies available at these shows, but that will have to wait for another post. I need to take Stan for a walk. 🙂