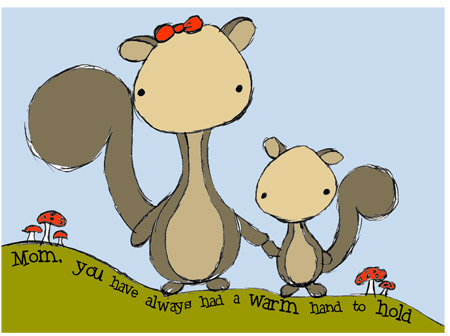 Mother's Day is rapidly approaching and if you're running out of time or simply not inclined to spend 6 bucks on a cheesy card, you can download a cheesy Cagey Bee card for free! I drew these squirrel cuties in my sketchbook with ink, scanned them into the old 'puter and then added the color digitally. All you have to do is print, fold and sign. Ta da!
I got some lovely comments after I posted my last printable card for Valentine's Day and I'm tickled to do it again, thinking of all the happy moms out there smiling at my silly squirrels. My mom didn't raise me to spend money frivolously, so I'm sure she'll approve of this homemade sentiment. Like me, she's the practical sort that would rather receive a new book versus a bunch of flowers that are just going to die in a week. On the other hand, my dad? Total romantic. In 30 years of marriage I don't think he's ever come home from a business trip empty handed (& he travels several times a month). Such a sweetie!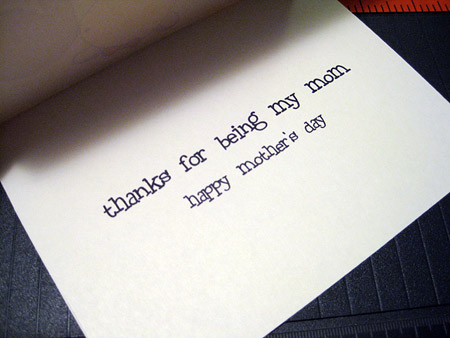 OK…so this is what you need to do!
1) Get some thick paper or card stock (not *too* thick unless your printer can handle that kind of thing).
2) Open the PDF file for the inside of the card & print. Choose "borderless" printing if you have that option, otherwise it will may give you a message about clipping the edges. That should be fine. There's extra room for trimming off later anyway.
3) Give the paper a few seconds to dry.
4) Open the PDF file for the outside of the card. Once your paper is dry with the inside greeting, flip it over & then pop it back into the printer to print the outside of the card.
5) Fold in the middle & trim off any excess. That's it!
Click here to download the inside of the card.
Click here to download the outside/front of the card.
————
A note on printing both sides of the paper: your printer may work differently, but for me, I feed the paper in face up. That means that when I print the INSIDE of the card, the greeting will show up on the lower half of the page. Perfect. When I flip it over, I have to flip it end over end so that the greeting text is being fed into the machine first, but FACE DOWN. Like this: