Between Got Craft last Sunday & Foux de Fu Fu a couple of weekends ago, I've got some major blogging to catch up on, among other things. Got Craft was a huge success & I'll be happy to take part in anything that Rob & Andrea attach their names to in the future. They did such a great job with the marketing, plus putting together the fantastic swag bags, that there was a line up of people around the block by the time the doors officially opened at 11:00 a.m. Pretty nice feeling to make your table fee in the first hour of the show!
There were some familiar faces at the show, so I'm happy that my Foux de Fu Fu photos will work for the Got Craft update because is was so busy, I never got a chance to leave my table & walk around. There were heaps of vendors I would've loved to have at least chatted with, if not snatched up some handmade goodies for myself, but I never got a break. A quality problem to be sure!
So, in repeat craftiness, we had the lovely  Patty of ThugFairies.com who sold me a gorgeous feather headband:
The purse sewing rad booth buddy & her awesome mom from malenkost: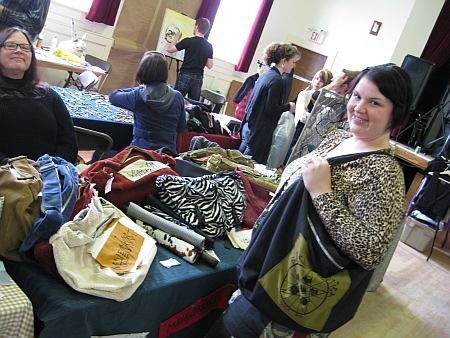 Jennifer Conway, who makes funky vintage-inspired jewellery, was great to chat with at the Foux show & I didn't get a chance to even say "hi" at Got Craft. So…hi Jennifer! Hope your sales were rocking!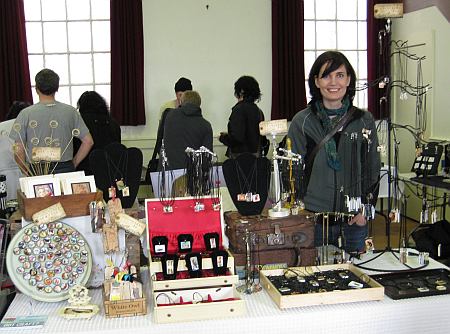 There were seriously too many talented folks to mention here, but I have to at least give a tiny shout out to the girls from UrbanHarmonie who kept me company (& fed me snacks! Thanks Christel!), Amanda from ebbandflo, TanisAlexis, Christy from Bueno Style, elseetee, Rita from smeeta…OK this is getting ridiculous. Y'all are awesome!
Happy crafting everybody!