My first big show of the winter season is almost here! I've got a studio full of new paintings, a table full of wood blocks covered with resin and currently drying, and boxes all over my office overflowing with the many, many projects I have on the go. (hint: new locket designs are coming!)
Aside from being a fabulous event filled with AMAZING designers and artists, Make It Vancouver is also your best shot at getting first dibs on any Cagey Bee goodies you've had your eye on. As the holiday market season progresses (more shows listed on my Events page), I often run out of specific prints & lockets. No matter how hard I try, I never seem to predict exactly which ones will be the hot sellers. Caging the Forest Bird has been one of the long time favorites, but my new robot locket has been a close second so far. Will be interesting to see what happens this season!
For more info about the show check out the official Make It website: http://makeitproductions.com
Or the Facebook event page: http://www.facebook.com/events/509490395747546/
(While you're there, have you "liked" A Cagey Bee yet? I definitely update my Facebook page more often than my blog these days. Gotta love Instagram!)
http://www.facebook.com/KrisBrownlee
And just to make sure you can find me, here's a map of all the vendors, with my spot (#21) circled: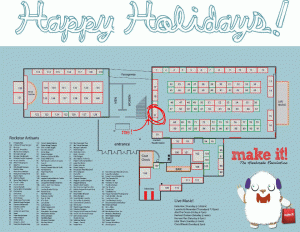 Make It Vancouver
Vancouver's largest indie craft, art & live music event! 
Reasons you will love Make It = over 140 Canadian indie crafters / designers, live music, delicious food carts, wobbly pops, nice friendly folks & an awesome vibe!
@ The Croatian Cultural Centre
3250 Commercial Drive, Vancouver BC
Directions/Parking: Map
Thursday, November 8
4pm to 9pm
Friday, November 9
11am to 9pm
Saturday, November 10
11am to 7pm
Sunday, November 11
11am to 5pm
Shop local!