I was one of the artisans participating in the Honeybee Festival out in Surrey, BC on the weekend & I had a fabulous time. It was one of the best run events I've ever worked & also looked to be great fun for the families that attended. Lots of demonstrations, music, games for the kids…tons of fun!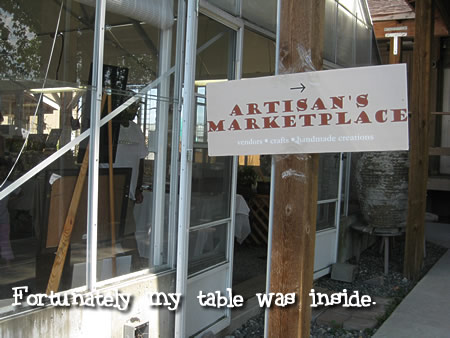 The weather was insanely hot (again) & my pale Scottish skin was no match for the blaring sun. Fortunately there was a lovely little atrium off the Honeybee Centre gift shop where several tables were set up.
Throughout the day it still got crazy hot inside, but at least it was shady. Did I mention the organizers gave us free honey? And meal tickets? Sweet!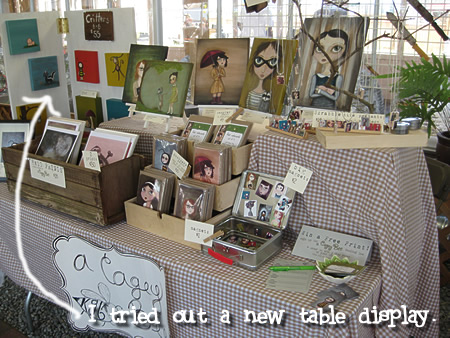 I spent most of Friday afternoon building that folding white board (I got to do tools!) so that I could hang more of my little critters. I love tools. Just cutting the board down with the circular saw gave me a little thrill. It worked a treat, though I'm sure my handy dandy carpool buddies weren't too happy when they saw how much stuff I planned to lug out to the fest. Plywood? Really freaking heavy.
There are still a few changes I'd like to make before the big holiday season, but I was quite happy with my new table set up.  Plus I met lots of really lovely customers who said nice things about my work, so that's always a big plus. Flattery gets you everywhere! At the very least, it'll get you a free bookmark. 😉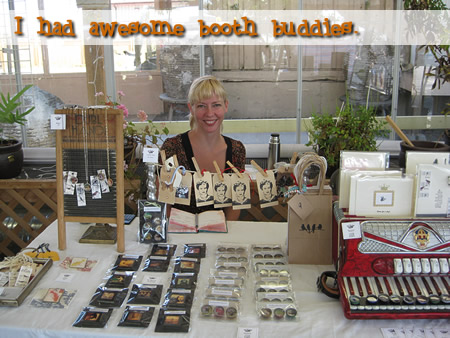 Sandy from Firefly Notes was kind enough to haul my goodies out to the Honeybee Centre AND keep me entertained all day. She brought her own helper monkey, Tracy, who kept pulling the most fantastic treats out of a cooler all afternoon. Incredibly tasty flax seed multigrain crackers smeared with pepper brie? Don't mind if I do!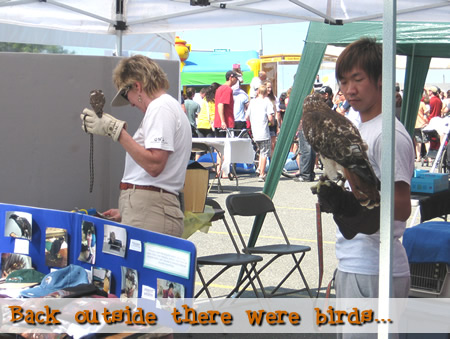 Back outside, I had to walk past the tent for the Rehabilitation Society for Birds of Prey. I'm kind of afraid of birds & walking past the guy with the hawk or falcon or whatever that scary thing is was a major feat for me. The tiny little owl? So cute! Hawk that wants to peck my eyes out? Less cute.
And you know what goes with birds? Bees! They did bee beard demonstrations at a few different times throughout the afternoon. It was definitely interesting, though I won't be volunteering anytime soon. Swarms of bees crawling all over me is in the same nightmare category as birds pecking my eyes out. But I'll take some more of those honey samples, if you've got 'em. Thanks!