The last couple of weeks have been a complete whirlwind of busy-ness for me & the next two promise more of the same. So instead of a full, useful blog post that makes sense, we're doing a quickie roundup:
Group Show
I have to finish up two more paintings for my group show next month at Raw Canvas Gallery here in Vancouver, plus I've been swamped with trying to get the word out about the show, like sending press releases, setting up a Facebook group & whatnot. I have one sort of finished, but I want to add a few more layers to give it more murky depth & I'm thinking about completely re-doing the girl's hair. It's bugging me.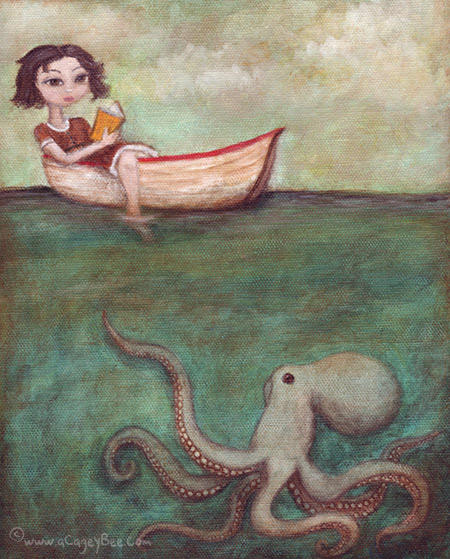 Etsy Sales
The Etsy groups I belong to have both decided to do big promo sales at the same time with a big giveaway from the Etsy Canada Team and a sidewalk sale from my Etsy Twitter Team (more details to come).
Social Life
My art group meetings, this incredibly basic & dull parenting course we signed up for which has so far taught me nothing except that I'm already an exceedingly good parent (*snort*), my nephew's birthday…why does it all hit at the same time? Even the fun stuff! The mister got tickets for the live re-broadcast of This American Life on Monday as a mother's day gift for me. It was amazing. It was so cool to see how they cue up the quotes, add the music, Ira narrates…not what I pictured at all. Dan Savage's story was a particular standout since it left both me & the mister weeping in our seats.
Of course we also had to see the new Star Trek on opening night. We took the boy & we all loved it across the board. Sylar as Spock? PERFECT. And surprisingly hot. Also surprising? It was really funny. Laugh out loud funny. Honestly, even if you're not a Trekker, go see it. It's a solid movie even without any back story or character history.
I did have to laugh at the whole ohhhhh! They replaced the original cast with young, sexy newcomers!!! What will Hollywood think of next? But…yeah. That's Hollywood. Next up on our summer blockbuster roster? Transformers 2! I loved the first one so much I was catching flies the whole movie, my jaw wide open watching the shiny chrome twist & transform. So. Freaking. Cool. Hollywood movies are rarely better than my imagination, especially as a child, but Transformers completely blew my 9 year old mind out of the water.