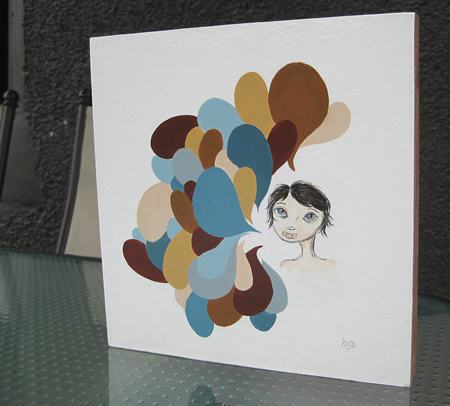 Have You Heard?
mixed media, 8″ x 8″
With all of my moving & houseguest busyness, I haven't had a chance to blog about the fun places my art is showing up. Exhibit A: the Twitter 140 art show at Grandon Gallery in Flagstaff, Arizona. The pic above is my finished painting, drying on my patio table. I originally painted it on heavy cold press paper for easy framing, but after trying (unsuccessfully) to track down some plexiglass so I could ship the thing, I opted for mounting to wood & then coating with many, many coats of glossy varnish. It's hard to tell from this pic, but I really love the way the glossy top coat makes the colors looks so rich & saturated. Now I want to do this to all my paintings!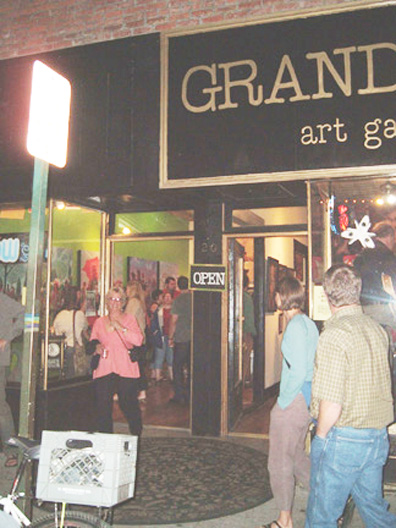 Since the Grandon Gallery is quite a hike from ye olde Canada, I was tickled to see so many great photos popping up from the other artists who were able to attend in person. I believe these photos can be credited to Claude Shawbell III (aka @dooko). Thanks Claude!
Here's a peek of the installation including my piece & the owner of the gallery himself, David Grandon. Apparently the mayor of Flagstaff even made an appearance! Wish I could've been there too.
And, of course, a huge thank you goes to Sheree Rensel, our fearless leader & show coordinator. We're looking to take the whole show on the road, so if you know of a venue that would like to display this exhibition, please do let us know. Sheree has put together a YouTube video to show off all the work, if you want to take a peek. 🙂