The good folks from Got Craft posted an awesome time lapse video of the craziness last spring, right from the first moments that Rob & Andrea set up the tables, to the first vendors arriving and all the way through the show to the final clean up. I was happy to see that I wasn't the very last table to finish packing up. 😉
My table is in the upper left hand corner of the screen – not the one in the very very corner (boy she arrived early!), but directly beside her. I noticed my big white display cabinet right away.
Sometimes I feel like a broken record talking about how tired I am & how much work I still have to do. I *love* the work that I do, so it's a good kind of tired! I definitely don't want to sound like I'm complaining & wouldn't change a thing (well, except start prepping for Christmas in June!), but it's kind of nice to have video proof that yes, I am allowed to be exhausted after a day like that!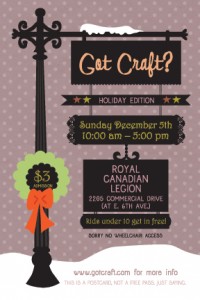 We're doing it all again this Sunday, December 5th! You can come see what the craziness is all about from 10 a.m. to 5 p.m. at the Legion on Commercial Drive (Vancouver, BC). If you feel like avoiding the craziness, I would highly recommend coming later in the day. The first 45 people through the door get free swag bags, so the line ups start early!