I'm happy to report that all of my paintings have been hung by the theater with care. And yes, it did feel like Christmas for me to see 21 of my paintings displayed together. I've been looking at them for months now, but never all together like that and mostly unframed. It makes such a difference, especially with the bigger pieces.
Opening night of my show was on Friday, but if you missed it, the work will be displayed until the end of June. It's kind of a strange space – the Plaskett Gallery is inside Massey Theatre, which puts on plays and performances and is in the same complex as a large high school. The night of my opening was a performance of Joseph and the Amazing Technicolor Dreamcoat. So the gallery was very busy, then the show started – and everyone left! Well, except for me and my lovely supporters. A huge thank you to everyone who came out for my show. An even bigger thank you to the folks who bought me wine! hehe
Highlight of the evening – I was literally *just* remarking how stylish this older woman was in her peppy swing coat and high heels when I overheard her say (complete with dramatic hand gesture), "Well! I can tell you right now I wouldn't want ANY of these!"
Bahahahaha! My jaw dropped & then I burst out laughing. She had no idea I was the artist & admittedly, she only looked at my Alice in Wonderland series, which are definitely more surreal & not everyone's cup of tea. Still. So freaking funny.
Now that the show has opened, I figured I'd take the rest of the weekend off and finally get a chance to sleep in. Unfortunately, 9 a.m. instead found me hauling my butt to North Van so I could jury for a summer market. The good news is – I got in! The bad news is – the summer markets are coming up so quickly that I don't see a day off coming anytime soon. Oh well! At least I can start working outside in the sunshine soon. 🙂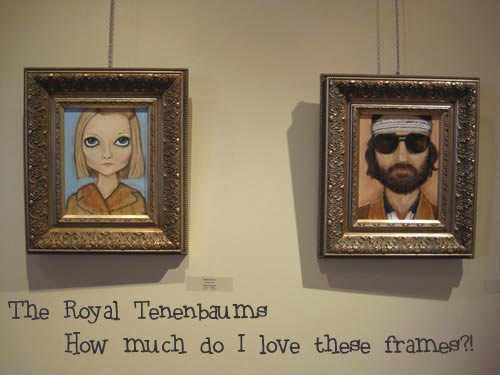 For a price list or information on purchasing one of my paintings, feel free to email me directly: acageybee@gmail.com
If you want to see more photos from the show, I uploaded a bunch to Flickr > here.