Kits Beach (Photo by Canadian Veggie)
One of my mister's best friends was just in town for a visit, so I got to play tourist in my own town as we showed him around for the week. His visit was timed perfectly with a crazy heat wave hitting Vancouver, timed perfectly unless you're part of the Pale Force, that is, like me. I tend to freckle or burn with very minimal tanning in between. I gave up many years ago & am pretty religious about putting on my sunscreen now (about the only anti-aging beauty treatment I do). I cheat a little with the fake tanners, but this year I haven't been able to find my usual Neutrogena one. Those "build a tan" or "daily glow" creams do absolutely nothing. I guess it might "build" a tan if you never exfoliate your face (& I mean scrub with a washcloth – you don't even need to get into fancy scrubs or creams), but come on! Who wants built up layers of dead skin that happen to be tanned? Not sexy.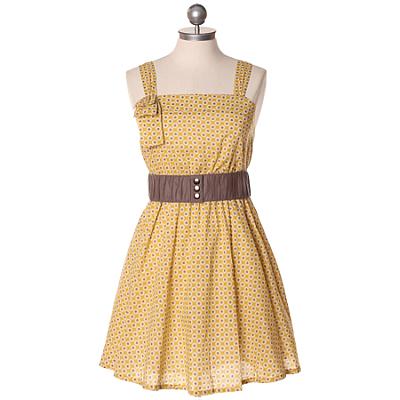 Ruche sundress (sold out in yellow unfortunately)
What's a pale girl to do in the midst of a heat wave? Wear lots of sundresses (much cooler than shorts), sit on lots of patios & drink lots of beer. Which is precisely what I've been doing this week! My office has been sweltering, so the idea of turning on my computer & monitor to add to the heat has been not very appealing. Instead I've been ignoring all of my web work in favor of hands on craftiness, most of which I can do while sitting in the shade – making new lockets & trying out a new hair pin design that hopefully will be ready for the Folk Festival next weekend. I'll be there for all 3 days sharing a tent with the lovely Jennifer Conway. Yay!
The next few days will require lots of coffee (iced) as I turn the house into a mad craft factory. I have no clue what sales will be like at an outdoor festival of the folk variety, but I'm expecting there will be thousands of people passing by our table, so…I need to be prepared for anything. It's so hard to say though…do I bring my prints? Maybe an original just to show people what it is I actually do? Or should I just focus on small things that people can tuck into a bag – like magnets? eep!