I had such a fab time at both of my shows on Saturday that I pretty much took all of Sunday off to recover. And to watch the Superbowl, of course! I couldn't care less about football, but fair's fair. My mister accompanied me to artsy fartsy schtuff, so I had to return the favor & watch some football. Fortunately we invited some friends over AND my mister made chilli, so I can't complain.
On to the shows! First up – Hot One Inch Action:
I submitted Murray (print here) as my button design and was so tickled when I saw the way he'd turned out. I kept a bunch, traded for a few of my other faves and had an all around awesome night.
Next up we headed over to Box Studios for the Heart On show. It was also super packed with over 250 people through the door. I got to chat wtih some of my favorite local artists, but unfortunately my photos are awful. It's a fairly dark venue – perfect for dancing & general merryment, less perfect for snapping non-blurry photos of artwork. Using the flash with artwork is almost worse than blurry, so…meh. Sorry!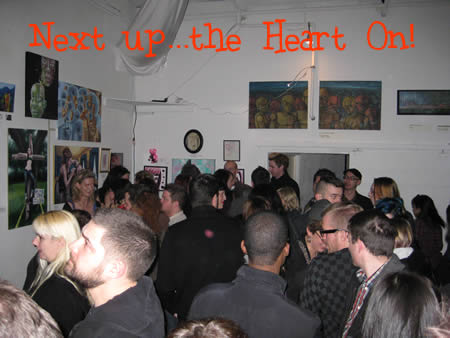 So much fun! I've got a bunch more shows coming up this spring, which means I need to get back to painting now, but I'll be posting more details soon. In the meantime, here's a hint: follow the white rabbit.