The Opossum Family
acrylic on beechwood
6″ x 6″ (3/4″ thick)
Momma Bee is buzzing into Vancouver early tomorrow morning, so we've been quite busy 'round the hive trying to get things ready. Washing sheets, clearing the living room of bikes & bike parts so that it resembles an actual living room instead of a bike repair shop…you know…the usual! I didn't get nearly as much done as I would've liked, but I did steal some time to finish up 3 small critter paintings that are making me very happy. One is for a custom order, so as soon as I know which one my lovely customer decides on, I'll be adding the other to the shop.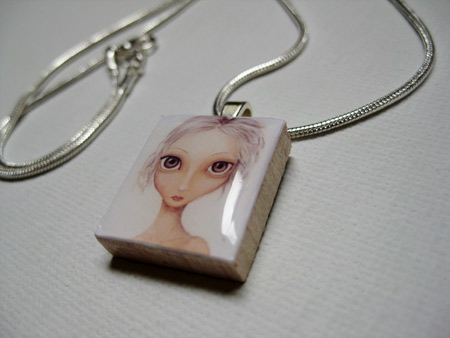 Another thing making me happy these days is my shiny box full of Scrabble tile pendants. I'm slowly, but surely getting them all listed in the shop & they are seriously just too cute for words. I'm particularly excited about how well the tiny 3″ x 3″ paintings I did for the Art House Gallery project turned out when shrunk down a teeny bit more!
Why hello there country squirrel! How freaking cute are you??
Off to finish up a bit more work, take the dogs for a quickie walk around the block & then bed. Phew! Can't wait until my mom gets here so I can actually relax! 🙂
Have a great week peas!