We're driving to Alberta for the holidays this year to visit John's side of the family. It will be great to see everyone, especially his grandma, a good Ukrainian bobba who's probably cooking up a storm right now. I haven't seen her in close to 2 years, so we're definitely long overdue for a visit. I'm not looking forward to the drive though and can't help feeling guilty about not spending Christmas with my own family. My parents, grandma, both sisters and their kids are all going to be celebrating in Winnipeg and even though I wouldn't wish winter in Winnipeg on ANYBODY, I will miss the lot of them.
To make up for my absence, I created some very personal paintings. For my mom, who's got a thing for angels: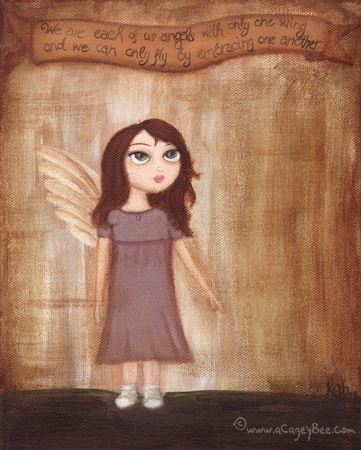 The text is a beautiful quote I found by Luciano De Crescenzo – "We are each of us angels with only one wing, and we can only fly by embracing one another."
For my sister who just lost one of her fur babies:
Not my usual style and a bit cheesy, but I hope she'll like it. Painting the fur was a new challenge for me and I think they both turned out appropriately fuzzy. I spent way too much time painting detailed folds in the blanket only to realize it distracted from the dogs, so i painted over it. Lesson learned.
There are 2 more paintings, but I just realized that I've already wrapped them up without scanning them first. Whoops! That's what happens when you've got a gazillion things going on and you're scrambling to get ready for the holidays!
Speaking of which…I'm off to snag another shortbread cookie before they're all gone. 🙂