The new goodies I've been working on over the last couple of weeks are starting to roll in & I couldn't be more excited for the big reveal at Sunday's market – Portobello West. Starting with…new 1 inch buttons! Yay!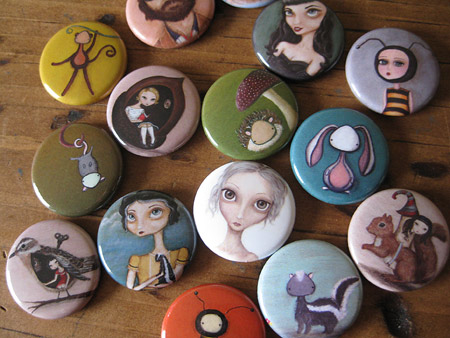 I can't decide which one is my favorite, but the Royal Tenenbaums are definite front runners.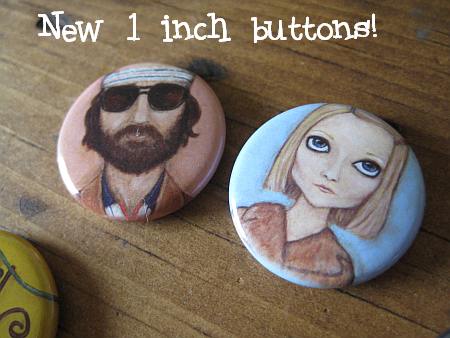 Also making an appearance, a bunch of new magnets with actual packaging (that I haven't photographed yet, but am really loving), new postcards and new prints from some of the paintings I just completed for my solo show. The Amelie (with gnome) print turned out great!
I know, I know…saying this stuff without snapping pics = fail. I'm unfortunately running out of time again. (go figure!) The plan is to drive down to the border to pick up the last couple of packages I need from my US mailbox, then race back home, pack up the work I need to do before Portobello, then haul my cookies (& postcards & magnets & buttons) to the island to see my folks for a couple of days. I'll be coming home on Saturday, so hopefully I'll be able to enlist my mom to help me sort and package the postcards (& magnets & buttons) so that I don't have to stay up all night when I get back. Thanks, Mom!
Also on my working holiday TO DO list? Put together 30 little treats for the Got Craft swag bags. People line up for HOURS before the doors open hoping to get a swag bag, so I don't want to disappoint. Last year I tucked a bookmark into each bag & this year I think I'm going to do magnets. I had been thinking I'd go button, but I saw the super cute buttons another vendor is donating to the bags & don't want it to be overkill, so. Magnets is the plan.
And now it's just about 1 a.m. and I have to get up at 7 a.m. to drive to the USA. And I'm clearly babbling. Goodnight!
PS – my Etsy shop will also be getting a BIG update very soon! Starting Monday I'll be adding new prints and assorted loveliness. Finally!