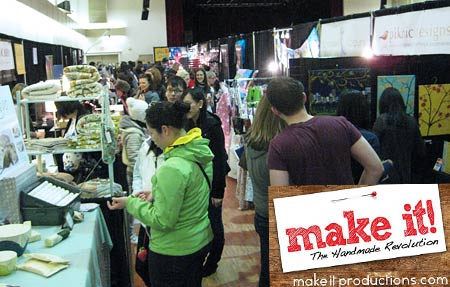 I'm slowly recovering from a fabulous weekend at Make It! Vancouver & by "recovering" I mean coming down from one of those exhaustedly happy highs whilst playing with the new treasures I scored at the show. I had very little time to get out of my booth & actually shop & *still* managed to buy stuff from 6 different vendors! Yay!
I launched a couple of new products at this show including the bookmark clips I mentioned last week & a new line of greeting cards featuring my little critter paintings. I made a pile more brooches too, but still managed to sell out of Stanley the Robot (my personal favorite).
Keeping me company this weekend were the fabulous Brandi & Brent from Kukubee, who will also be joining me in 3 weeks at Got Craft:
I finally snagged one of the ridiculously cute notebooks made by the Tiny Fig:
The lovely Christi from Bueno Style (who may have been drinking wine, but certainly not "cougar juice") scours antique shops all over the world to create her stunning re-imagined vintage pieces:
Bueno Style is also one of the vendors that will be at Got Craft on May 8th. Click here for a full vendor list.
Now for some yummy treats! Hands down the best macarons I've ever had the pleasure of tasting were made by French Made Baking, a new vendor on the Vancouver scene. David and Catherine hail from France, which might be why their baked treats are so amazing. At any rate, I'm sure I'll be stalking their booth at the farmer's markets all summer!
I also scored 2 big delicious jars of mustard beans & pickled veggies, just like my mister's grandma used to make. He's in heaven. 🙂
As a thank you to my mister, I picked up these dashing Lego cufflinks from Nostalgic Links:
There were so many other talented folks at this show that I'm missing here, but as much as I hate to leave anybody out, this post is getting way too long & my dog is getting way too barky to continue to ignore. So. Thanks for a wonderful weekend to everybody who came out! See you at the next show!