After a fabulous show in Edmonton, I am happy to be home. And right back to work since Make It Vancouver kicks off tomorrow!
Despite the snow (yes, snow. It snowed. The dogs were very excited by the fact that they could now pee EVERYWHERE!), I always have a great time in Edmonton. The people are so lovely. From the shoppers at Make It to the sweetest little old lady offering me free samples of her homemade fudge while I poked around her antique store, everyone I encountered was incredibly kind. Speaking of that antique shop – mechanical chicken that poops out eggs? SOLD!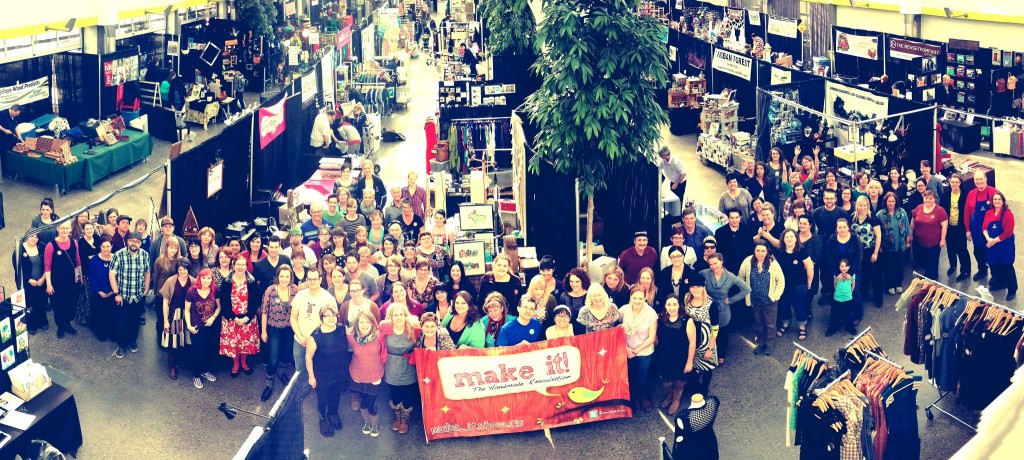 The pink hair makes playing "Where's Kris?" a wee bit less challenging than "Where's Waldo?" methinks. 😉
The show was a huge success with over 7000 people through the doors. Needless to say, that means I haven't had any time off since I've been home! I've been making wood block prints, packaging 8×10 prints, assembling lockets & there is still plenty I'd like to get done tonight. Good thing my mister is willing to help. And brought me salted caramel ice cream. 🙂
Friday, April 19
4pm to 9pm
Saturday, April 20
11am to 7pm
Sunday, April 21
11am to 5pm
@ The Croatian Cultural Centre
3250 Commercial Drive
Check out the Facebook event page here.
Next week I'll be at Granville Island & then Got Craft on the weekend. Holy cats! Good thing I have the best job in the world. 🙂