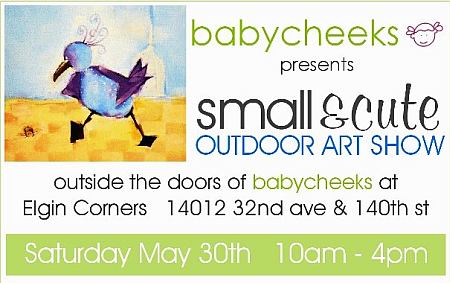 I'm going to be trying something new this weekend & selling my work at an art show hosted by a trendy children's shop in Surrey, BC. This should be quite a different crowd than the craft shows I've done in the past & it'll be interesting to see how my work is received. I don't paint specifically for children in mind, though I am definitely influenced by the great storybooks I grew up reading. I'm in a weird sort of gray (pink?)  area between cute, but not quite the super child-friendly cute that kids are used to seeing. Should be a fun experiment anyway!
If you're a local, here are all the details:
small&cute OUTDOOR ART SHOW
outside the doors of
babycheeks
at Elgin Corners 14012 32nd ave & 140th st
An eclectic mix of modern kids artworks will be featured during this fun day. Meet and mingle with select local artisans – this is an opportunity for you to purchase hand-made high quality unique items for your little loved ones playrooms, bedrooms or jewelry boxes.
– free admission & face painting –
Come and see the great works with children in mind from local artists:
Lizzie Gray
CiCi Art Factory
Homeworks Etc
Everything under the Sun
Moonloop
Temptations Studio
Beetling Designs
What I see… Photography
Hug & Kiss Designs
Cageybee
Apples & Cheese Studio
Enter to win Deluxe Floor-Standing Wooden Melissa & Doug Art Easel – retail value $95