There are so many Christmas gift guides out right now that I've got presents bookmarked for the rest of the year. Let me share some of my favorites, starting with handmade gifts for the hipster on your list.
Hipster Stocking Stuffer: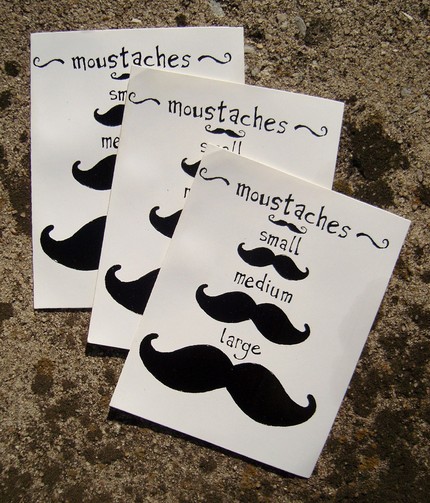 moustache stickers by Chandar Chandar
I'm not sure when the moustache paraphernalia became a mainstay of hipsterdom, but there's no mistaking it – hipsters love moustaches. And stickers. Combine the two? Gold! Check out the stickers here and the rest of Chandar Chandar's odd little shop here.

For the Person Who Has Everything: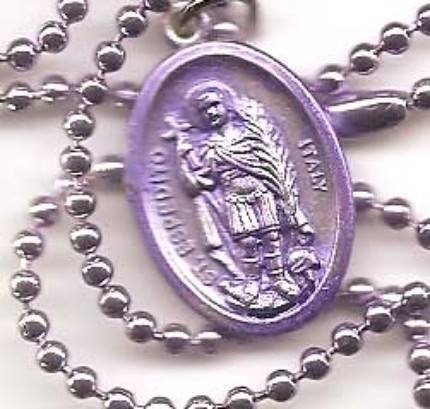 St. Expeditus – the patron saint of procrastinators
Heaven Help Us creates amulets for the forgotten patron saints and as soon as I saw the one for procrastinators I knew I was being divinely guided to his shop. Stuck in an office with a horrible cubicle mate? St. Therese, patron saint of people who are annoyed by the annoying habits of others. Sewing? St. Ann. Embroidery? St. Clair. Trekkies? St. Martin de Porres. There really IS a patron saint for everything!
For the Comic Book Geek: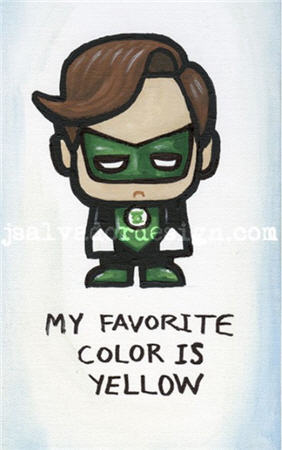 emo Green Lantern by J Salvador
There is a whole series of these little guys that are so cute. I want them all! Unfortunately, so does everyone else. The artist has had to close his Etsy shop because the limited edition run of prints has already sold out. Still worth taking a peek through his sold section to see the whole gang. Super Emo Wonder Woman? *swoon*
For Your Sweetheart:
framed laser cut by Julene
Julene makes the most beautiful paper cuts with so much lovely detail. Where There Is Love is one of my favorites, but the Beez Kneez is high up there too, of course. If you have a particular message in mind, you can also commission an original paper cut on her website.
For Man's Best Friend: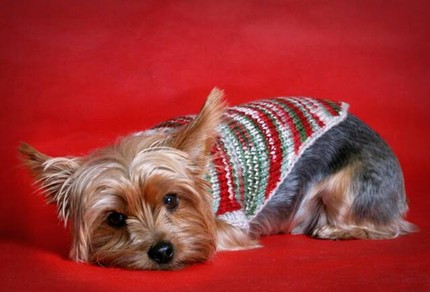 custom hand knit dog sweater by Jus Shar
Jus Shar makes all sorts of stuff, but if you have dogs that are slightly, um…svelter than the typical S-M-L options allow, what could be better than a custom knit dog sweater? Send her your pooch's measurements, pick your colors & it will arrive in 2 to 3 weeks. Finding something to keep the pug warm in the winter is tough because he's not *big*, but he has such a thick neck that he doesn't fit the small or medium options. He's pretty much the same size straight through!
For the Vintage Lover:
Victorian knit cuffs by Yarn Couture
These cuffs are so cute I'd want to wear them all year round. I'm picturing them with a pretty blouse or even dressing up a casual jersey top. So fab! Yarn Couture has got plenty of more traditional hand knit goods too from scarves and neck warmers to hats and afghans.
For the Dirty Girls (and Boys):
caramel latte exfoliating soap bar by Soap Rehab
Handmade soap is one of my guilty pleasures. It costs a little more, but the chance to have a daily dash of decadence is so worth it that I can't resist the lure at my local craft shows. If you're buying online, it's often a good deal to buy in bulk. Soap is heavy to ship just one bar, so sellers will often use those flat rate shipping boxes where you can cram as many bars as will fit for one rate. All of Soap Rehab's products are vegan too!
For…Me?: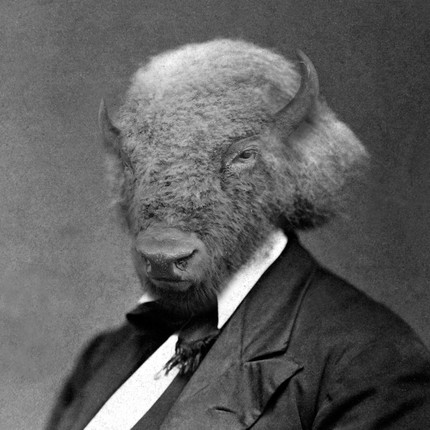 Ulysses S. Bison III by Grand Ole Bestiary
I've had this buffalo gentleman art print by Grande Ole Bestiary in my favorites list for months now and at only $8.00 for a 5×7, it's a steal. Hunting for the perfect vintage frame to put him in will be the real task.
Last, but not least:
hipsta, please button from Bean Forest
Just cuz it's funny. Bean Forest has got so many cute, funny buttons that I could spend an hour digging through their shop. Excellent stocking stuffers, but you'd better order quick if you want them to arrive before xmas.
Happy shopping!