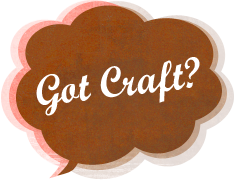 One of my favorite craft shows, organized by the awesomely rad Andrea & Rob (of Lotus Events), is going bite sized! Instead of the twice a year goodness of the largest indie craft fair in Vancouver, this Sunday, August 9th, there will be a mini version of Got Craft with a smaller selection of vendors, an outdoor venue &…drumroll…me!
When:
Sunday, August 9th, 2009 from 11:00 am – 4:00 pm
Where:
Little Mountain Gallery @ 195 E. 26th Avenue (at Main Street), Vancouver, BC
Admission:
by donation to support the Vancouver Craft Mafia
UPDATE: the monthly Got Craft shows have been officially canceled. Sorry to disappoint!