And the winner of my Etsy Anniverary giveaway is…
Lucky commenter numero 4 – Char Anderson. A big thanks to all my commenters & well wishers, plus to random.org, home to those smartypants who built the random number generator.
I really appreciated the comments on things that *you* love too & now have a few new things to add to my library list. I actually haven't been reading much lately as I've been on a crossword puzzle bent. That happens. There was the Sudoku Madness of 2006 (which dragged on months longer than it should have due to the fact that Nintendo DS makes playing sudoku way too fun). Then there was the Logic Puzzle Lollapalooza of 2007. It started with my friend Jen, who bought a book of logic puzzles & then proceeded to infect our entire social circle. And now? Crossword puzzles. I think I can handle it this time though. I'm not addicted. I swear. In fact, if I were addicted to anything right now it would be:
Boggle for the Wii has been played in my house every single night for the past 10 nights. I don't remember ever playing Boggle as a kid, but it's the one where you shake a box full of letter dice & then construct words based on which letters appear in the grid. It works really well on the Wii, tells you immediately if the word is valid or not (or already taken by your bastard competitor) & is hosted by Mr. Potato Head. How can you beat that? The game is called Hasbro Family Game Night & also has Connect Four, Sorry, Battleship and Yahtzee, which is also surprisingly fun on the Wii.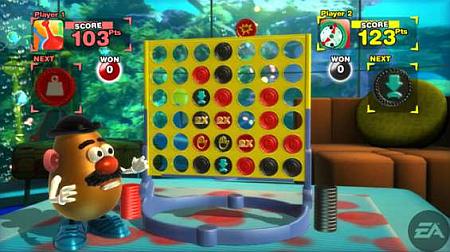 I'm generally all for old school, non-electronic everything, especially since I already spend far too much time on the computer, but I blow a big pffftt at the commenters on this review. If you live in a city like Vancouver where space is at a premium, you probably donated your old board games to Goodwill years ago. We've kept some, like Lord of the Rings RISK, but very few others. We just don't have the storage space, especially for games that never get played. This is just one thin disc tucked into a binder with the rest of 'em. I wouldn't pull out Connect Four and set it up just to play 3 rounds, then switch to something else, but on a video game? Easy peasy.
Another bonus is I don't look like a dork for playing Boggle all by myself. OK. Maybe still slightly dorky. Stop judging me!