We've been home from Hawaii for a whole week now, but stepped so thoroughly back into "real" life that I feel as if we hardly had a holiday at all! We came home to a smashed car window & stolen GPS, a big SOLD sign on the house we're currently renting, an appointment to pick up our new rescue dog from her foster mom plus an inbox & answering machine full of messages. Good thing I was feeling recharged!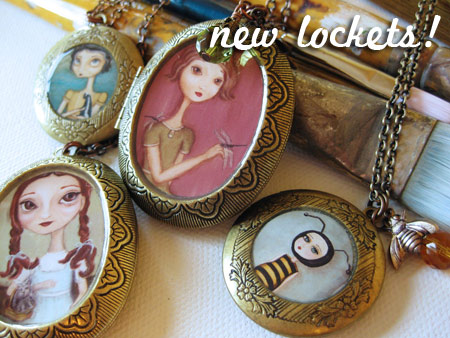 Whilst dealing with the life stuff (repairing the car window, filing a police report, apartment hunting), I've also been crafting up a bevvy of new lockets, pendants & prints for my first show of 2011 taking place this Sunday, February 27th. You can find me & my wares at the Blim Community Market at the Heritage Hall. And no, I will not be tanned. I harvested plenty of new freckles in Hawaii & got one nasty sunburn, but no one would mistake me for a resident of the Jersey Shore. 😉
Sunday, February 27th, 2011
Blim Community Market
Heritage Hall
3102 Main Street (@ 15th Ave) map
noon to 5 pm
Some of my favorite crafty folks are participating in this market including: Tiny Fig, Firefly Notes & A Farmer's Daughter. The food supplied by Open Sesame is always amazing too. Nom nom nom!

The new pooch will be requiring her own blog entry, if she'll ever agree to vacate my lap long enough. She brings new heights to the word "cuddly"!