It's December 29th already & the hive has yet to fully recover from Christmas & return to normal operating speed. Do you sometimes feel like you need an extra couple of days holiday to recover from your holiday with family? That's where I'm at right now. I didn't have a particularly stressful Christmas or even have to travel very far. Me & my mister drove down to Seattle to spend the holidays my side of the family – no airplane cancellations or crazy snow storms in sight! Still, catching up with laundry, emails & general life stuff seems more sluggish than usual.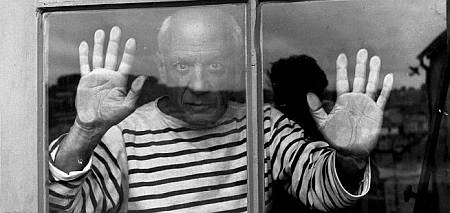 One of the highlights of my holiday? Ducking out to catch the Picasso exhibit at the Seattle Art Museum. It was amazing to see such a diverse collection of Picasso's work all in one spot – paintings spanning every period of his career, sketches & drawings, plus a wide variety of sculptural work. I went on what was probably one of the busier days & though I would heartily recommend getting out to see the show before it closes (January 17th, 2011), it honestly wasn't the best art-viewing experience. People are admitted every 20 minutes & you have to purchase a ticket for a specific time. There's a line up to get in & you remain shoulder to shoulder with other visitors throughout the exhibit.
The SAM had an interesting audio program to go along with the show that included a bit of history as to what was going on in the world at the time of a particular piece, what was going on in Picasso's personal life, commentary by other artists like Chuck Close etc. There were 23 different audio tracks & you could either download them beforehand to listen to on your iPod or listen via a cellphone-like device that was handed out upon entering. While this certainly made the exhibit more educational & I enjoyed the added info, it also meant there were giant bottlenecks in the flow of visitors. As soon as you walked in there were 2 paintings hung side by side that each had a designated audio track. So everybody stops. And listens. And you can't see ANYTHING.
What you can do (yes, you!) is listen to all of the audio tracks at home via iTunes or download the MP3s from this page while looking at photos of the art. It's not the same as seeing the work in person, but at least you don't have to crane your neck or stand on tiptoes inhaling terrible cologne while angling to get a better viewing position.
terrible camera phone photo of the Rothko
Throngs of people aside, the SAM was well worth the price of admission before we even got to Picasso. The curators have amassed a wonderful collection of modern art. At one point I had to marvel that I was standing in a room with a Pollock, a Rothko & a Rauschenberg. I was surrounded by literally millions of dollars of artwork & the atmosphere was so causal & visitor-friendly that photography was allowed! Amazing.
Photography isn't allowed *everywhere* in the museum, but I thought it was quite remarkable that only certain sections & pieces had "no camera" signs versus the usual solemn museum atmosphere. By the time I visited the Jasper Johns', the Warhol double Elvis, the large European art section & a fantastic contemporary sculpture section, I was practically giddy with excitement. I think the Vancouver Art Gallery could learn a thing or two from SAM.
One last highlight – Do-Ho Suh's robe sculpture made from 40,000 military dog tags:
I had seen this piece previously on Art 21, but seeing it in person took my breath away. It was great to see newer contemporary artists exhibited right alongside American masters. Definitely worth a visit next time you're in Seattle.