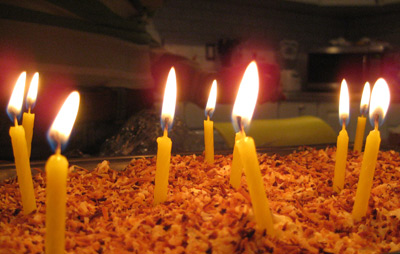 We survived the birthday weekend, we survived go-karting & we survived the sweetness overdose that was my chocolate cake with vanilla coconut frosting. Nom nom nom. I used the same frosting recipe as I did for the cupcakes in my last post, but I cut down the sugar to only 1/2 cup & I toasted some coconut in the oven to sprinkle (generously) on top. Yum.
Here's the cake recipe (from allrecipes.com? I'm not sure where I found it now):
Black Chocolate Cake

INGREDIENTS

* 2 cups all-purpose flour
* 2 cups white sugar
* 2 teaspoons baking soda
* 2 teaspoons baking powder
* 1 cup unsweetened cocoa powder
* 1 pinch salt
* 2/3 cup shortening
* 2 cups boiling water
* 2 eggs, beaten
* 2 teaspoons vanilla extract

DIRECTIONS

1. Preheat oven to 350 degrees F (175 degrees C). Grease and flour a 9×13 inch pan. Sift together the flour, sugar, baking soda, baking powder, cocoa and salt. Set aside.
2. Melt the shortening in the boiling water, then stir into the flour mixture until blended. Beat in the eggs, then stir in the vanilla.
3. Pour batter into prepared pan. Bake in the preheated oven for 30 minutes, or until a toothpick inserted into the center of the cake comes out clean. Allow to cool.

I substituted oil for shortening & strong coffee for the boiling water. The only flour I had on hand was the whole wheat kind & it turned out great!

me & the boy at TBC Indoor Kart Racing – he's #1