The k.g.b. empire is taking over Vancouver! If you're local & don't want to wait until my next market or craft show, you can now pop down to a few fabulous Vancouver retail shops & stock up on Cagey Bee goodies. I love this city & am so thrilled to be part of such a supportive community. I really love the way we showcase local designers. Main Street, Commercial Drive – the only chain stores to be found are Starbucks (which are getting a little ridiculous in their ubiquity, I'll admit).
So if you're looking for something special (for Valentine's Day, perhaps?), here's where you can find the bee:
Bird on a Wire
website: http://www.birdonawirecreations.com
2535 Main Street @ Broadway
This a new shop that just opened last year. A beautiful location with a fantastic assortment of art, fabric goods (the quilt in the front window had me drooling), jewelry & all sorts of creative wares. You can find a selection of my lockets, postcard packs & prints in stock.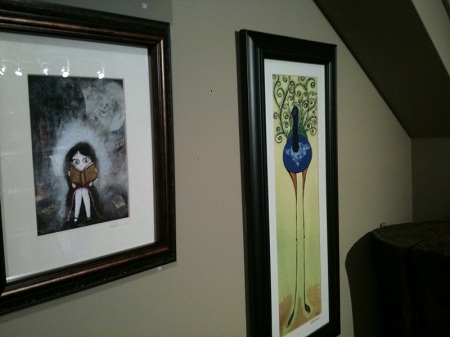 Chic Winds
contact: (604) 683-8292
375 Water Street (same block as the steam clock)
The owners of Chic Winds are incredibly sweet & encouraged me to branch out into retail after spotting my work at one of my markets. They carry a mix of local artists, including First Nations jewelry and artwork, plus a line of Tibetan jewelry picked up on their travels. I was happy to see one of my prints hanging in such good company, a print by painter April Lacheur of Yapes Paints. At Chic Winds you can find my lockets, a handful of Scrabble tile pendants, 5×7 matted prints (not for sale anywhere else), wood block panels & a few original paintings too.
Plush
website: http://www.plushonmain.com
4296 Main Street (just south of King Edward)
Oh, Plush. You guys just rock. The girls manage to cram so much Vancouver fabulousness into such a small shop that I'm constantly surprising myself by noticing new items that I seemed to miss before. Felted soap in Chai flavor? Pouches by kukubee? Yes, please! You'll also find some Cagey Bee lockets, mini wood panel prints covered in shiny resin plus a couple of original paintings on canvas.