Brrrr! The Car Free Fest was chilly on Sunday, but I was delighted to see that the clouds didn't keep folks away. I saw plenty of familiar faces and really wished I'd been able to wander around more. It's tough when you're a vendor working on your own; you're pretty much stuck behind your table the entire day. Fortunately I had plenty of lovely customers plus tricky gusts of wind to keep me busy.
I did as best I could to change up my table display so it would be more weather-friendly, but alas, when the wind suddenly changed direction? I was not prepared. My new locket display sits sturdily on an easel & then was bracketed by two other heavy wood pieces so there was no way it was falling over. Until the wind switched things up & a strong gust came from behind knocking it to the ground along with all of my lockets! I scrambled to get everything picked up & carefully inspected every piece for damage. Luckily only one necklace showed any sign of trouble & it was a really minor fix (a charm fell loose). Phew!
And also – yay! I try to product test my lockets by wearing one myself (constantly), but to be honest, I've never really tried to damage the shiny resin that seals my artwork. I'm interested to see what happens after being worn for long periods of time & I hope that the precautions I've taken will keep the work from yellowing or fading for a very long time (so far, so good!). But I assumed that hitting the concrete would be sure to cause at least minor scratches on the resin, which is essentially a plastic. I hope that my customers aren't planning to drag their lockets around on the driveway, but it's still nice to know that they can withstand being flung to the ground, if necessary.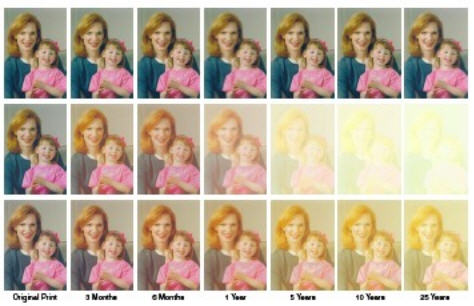 Image from A Survey of Print Permanence in the 4×6 Inch Consumer Digital Print Market
When I was researching printer ink longevity for selling my artwork, I thought the process they use to test each paper was interesting. They basically stick a sample print in a box & expose it to insane amounts of light for a month or two, then calculate the amount of fading. They're able to extrapolate that data to figure out how long the print would last when exposed to an average amount of light. (I'm not sure how they get that figure, but they're assuming some daylight, some tungsten light every day. I imagine the practical difference varies dramatically. A living room in Vancouver is going to get wayyyyy less UV exposure than a condo in California with floor to ceiling windows.) Three estimates are then given on how long a print will take to show signs of fading when: under glass, under UV-protected glass or in an archival album only exposed to light while being periodically looked at.
Obviously as someone who sells her artwork, I find this interesting, but also the geek in me finds it really cool. The printer technology that's out now hasn't been out for very long. There really hasn't been any way for consumers to know if the claims that various brands of ink & paper are "archival" quality is true or not, so reading these reports has been an eye-opener. Nobody wants to just "wait & see" with their wedding photos, right?
Before this gets too (much) longer and boring-er, two things I was surprised by:
1) If you have a good quality printer at home, the photos you print may have a longer archival rating than the ones printed professionally at Costco or Walmart. I know printer & ink technology has come a long way, but I was really surprised by this.
2) If you want your photos or whatever else you're printing to last more than a few years, don't buy generic ink. Those ink cartridge refill places? Super cheap, but the ink is horrible for archival purposes. If you're mostly printing papers that are going to be tossed (recycled) anyway, then this wouldn't apply to you. But if you're printing family photos or anything you think you'll want to hang on to, the testing has shown that the standard rating for those cheapo inks is 5 years or less. Apparently you *do* get what you pay for.
You can download all of the tests from Wilhelm Imaging Research if you'd like to read more.