I finished some new paintings in my critters series recently & though I haven't added the original paintings to my shop yet, 4 new prints are available. I'm excited about these ones because I focused on some more neutral background colors, which should mix & match nicely with the rest of the animals in my growing menagerie.
Click here to visit the art prints section of my shop.
I'd like to shoot photos of them all, mixed up & in different arrangements to show all the possibilities. Hopefully I will have the opportunity to do that soon as I've got a little surprise up my sleeves for the holiday markets!
I've been working with a custom frame manufacturer based in the USA to come up with a really lovely framing option for these cute critters. I usually show a sample framed photo in my listings – square, white, clean lines. Unfortunately, frames like that are proving very difficult to find!
There is the Ikea Ribba option, but the square size they make (9″x9″) means you would have to get a custom mat cut. Also, since a lot of these prints end up in children's rooms, I'm finding it difficult to recommend the Ikea frames in good conscience. Yes, they're cheap. That unfortunately includes the glass, which is notorious in picture framing circles for being such poor quality that many framers won't touch it. It shatters so easily that the framing shop I use won't do a custom mat & framing job for someone bringing in an Ikea frame unless they also replace the glass. Yikes!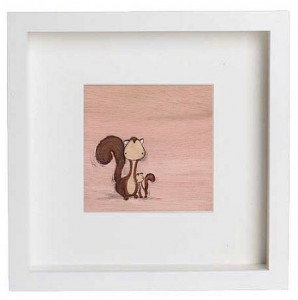 Miranda & her Baby print, 8″x8″
I'm feeling the pressure of the ticking clock as we wind into Christmas shopping territory, but hopefully I will soon have a framed print option that will include a made in the USA square white frame, custom cut mat & UV protective plexiglass – shatter-proof, easy to send in the mail & will protect the art itself from fading even when hung in the sunniest of spaces. Huzzah!