Though I really should be cleaning right now, I'm instead virtually trimming my tree and imagining decking my halls with cute stuff I'm finding all over the place. Since it's probably too late to have anything shipped to Canada, I may have to get out the old sewing machine and use some of these fab finds as inspiration:
How cute is this mini stocking by Joo Sweetie?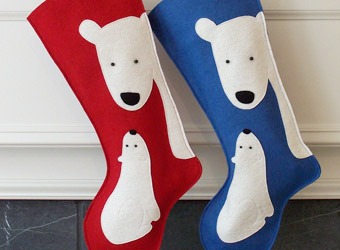 I like these polar bear stockings from My Perennial too. I'm thinking maybe Henry would make a good stocking critter. Or the Bee Girl.
In the ornament category, I love these single spruce ornaments:
So simple and beautiful. You can get your own from One Gift One World's Etsy shop.
In the reduce, reuse, recycle Christmas spirit, I love Hershey Is My Baby's idea of turning old wood sweaters into the leaves of a holiday wreath:
These wood block Christmas trees made by Wood & Wool Stool are great too. So lovely in that rustic, cozy cabin sort of way.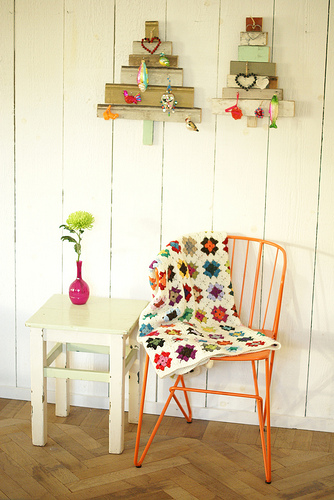 And lastly, what would the season be without the holiday cards? I sold out of all of my winter-themed greeting cards a few weeks ago, so will definitely have to order a bigger run for next year. Until then, here are two cute ones that I've added to my favorites list:
OK, maybe not exactly Christmas-y, but awesome nonetheless – the Libre Chihuahua card from African Grey.
And for your quirky, hipster friends, Have an Ironic Christmas cards from Able and Game.