Caging the Forest Bird
6″ x 6″, acrylic on beechwood
$150
Now that my gallery show at Raw Canvas has wrapped up, I'm thrilled to release prints of the work I created for the "concepts of home" theme. The big one isn't quite ready yet (needs to be re-scanned at the print shop), but prints from the 3 smaller paintings are now available in the shop. Huzzah!
The Woodland Path
6″ x 6″, acrylic on beechwood
$150
I'm thinking I'd really like to offer them as a set of 3 with a discounted price. Maybe smaller too? An 8″ x 8″ print with matting & frame ends up taking up quite a bit of wall space. Maybe sell the 8″ x 8″ individually & then a set of 3 that are 6″ x 6″?
I'd love to offer them already framed too, but I'm really not able to get any better deals than the average bear without ordering massive quantities. Still…would be nice to give folks the option so they arrive ready to hang. I have prints I ordered MONTHS ago that I haven't framed yet. Bad bee!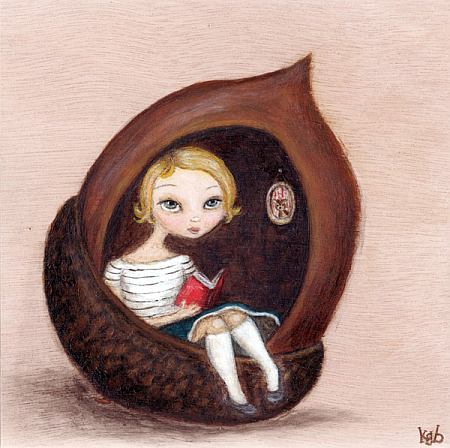 A Quiet Forest
6″ x 6″, acrylic on beechwood
$150
I haven't added the originals to my Etsy shop yet, but if you'd like to give a new home to one of the original pieces, you can purchase them from me personally. You can pay via credit card using Paypal (click the Add to Cart button) or send me an email for other options, like sending a check (acageybee@gmail.com).
If you're in the Vancouver or Seattle area, I'd be happy to deliver the work in person. Especially the big one. It's so beautiful & so so heavy. The idea of mailing her out & trusting the post office not to damage her incites a tiny panic attack in me. I may just have to keep her. 🙂
Between the Waves and the Trees I Found Home
16″ x 20″, acrylic on beechwood
$450