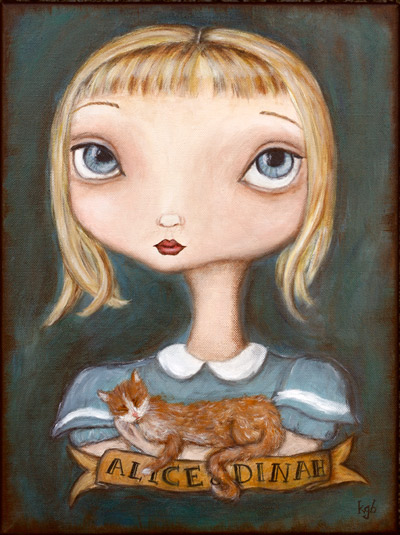 Alice and Dinah
8×10 print
After many late nights in the studio, my Alice in Wonderland series of paintings is, though not quite finished, coming along swimmingly. I've released all 3 of the portraits (in progress here) featuring Alice and Dinah, the Mad Hatter and the Duchess.
I do have one more to finish, but that will have to wait until after my trip. Did I mention the mister and I are going to Seattle? And then Portland? And then back up to Victoria? I'm super excited. Spring has sprung, the flowers are blooming and a road trip sounds perfectly in order. But before I go, I have to show off one more painting – a BIG one!
Alice in Wonderland
8×10 print
This is one of the two 16 x 20 canvases I've been working on & really loving. Painting that size means lots of room to play with backgrounds and add detail. I have to restrain myself a bit or I'm sure I could work on these for months! I've released one of the new big paintings as a print in my Etsy shop. The other one isn't quite finished and it makes me a little sad to leave it in its unfinished state as I gallivant all over the PNW. Unfortunately painting + driving do not mix.
In case I can't blog from the road (though I should definitely be able to Twitter), have a lovely week!