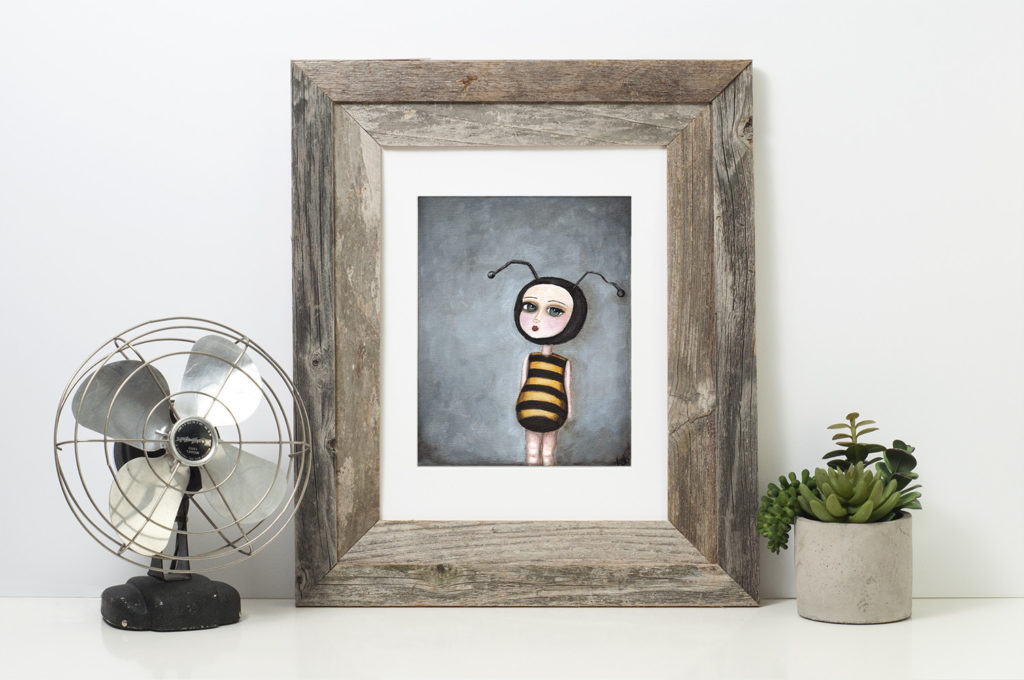 Hello lovely retail partner!
Looking to add fresh art to your retail shop? Most of my work is available for wholesale. I am currently partnered with a few shops around the Vancouver area, so am always interested in expanding to new areas!
My work appeals to a wide audience. The animals & big-eyed girls are snapped up by children & women of all ages. Men tend to be drawn more to the robots & the Adventure Awaits series of camper trailers, the VW bus, bikes etc.
Shoot me an email to introduce yourself & your shop:
Kris
Email: acageybee@gmail.com
ORDERING
Opening Orders: $200 minimum order. 1 inch pins minimum of 50.
TO PLACE AN ORDER:
Download our spreadsheet and fill in your choices on each tab. It will calculate the totals for you. Send it back to us at acageybee@gmail.com
Click here to download the catalog
Click here to download the order form as an Excel spreadsheet (.xls)
Other formats – we can send you a link to a Google doc for you to fill out online. Or a long PDF. Some people like to print the order form, fill it out in pencil, then snap pics to send us. Whatever works best for you!
Having trouble? Feel free to call John and go through your order over the phone. (604) 779-0022
*
TURNAROUND: We aim to ship orders within 2-3 weeks, outside of Christmas season.
PAYMENT: Payment is due upon shipping. E-transfers can be sent to acageybee@gmail.com. We also accept cheques, credit cards and Paypal.
SHIPPING: Orders are shipped via Canada Post or USPS. Costs range from $12 to $30 depending on the weight. We are not responsible for any customs fees due on international orders.
RETURNS: Damaged goods may be returned within 14 days of receipt. Any styles that are not selling well can be exchanged for other styles, providing the items are still in mint condition.
NOTE: The glossy art blocks and lockets are sealed with resin which may appear temporarily marred upon unpacking. Eg. bubble wrap will sometimes leave dots all over the surface. It usually just needs an hour or so to warm up and return to the smooth, glossy shine. (Knocked off a shelf? Scratches can be buffed out using a hair dryer to heat it up.)
ECO COMMITMENT: The natural world around us is a constant source of inspiration, so it is our duty to protect it. We are committed to decreasing our environmental impact on the planet as much as possible. We use recycled materials in our packaging & boxes. Most of our supplies are sourced locally within Canada & the USA from companies that share our values.